In this blog post I want to explore some of the more interesting, strange, and downright wacky HSE laws and regulations that are in effect in various countries around the world.
But, at the outset.  Let me state that I have a lot of respect for the people involved in developing HSE regulations.  I have had the opportunity to meet regulators from many countries, and I almost always find that they are advocates for HSE and that their intentions are good.   Their job is to carry out the requirements that are placed on them by the legislation of their country or jurisdiction.  The problem, however, is that the legislators are not necessarily well versed in HSE needs and often have political agendas.  This puts the regulators in a difficult position – try to do an effective job while at the same time pleasing their bosses, a sometimes contradictory position.  
As a long-time resident and business operator in developing several developing countries, I do get a chuckle about some of the (seemingly) absurd HSE regulations in many developed countries.  While I do understand and respect the need for laws and regulation, I am also well aware that there is little real evidence for effectiveness of HSE regulations beyond a certain base level – see my blog post Why Are Health, Safety and Environmental (HSE) Laws and Regulations Ineffective? for more on this issue.
In this blog post I will discuss some of the problems with laws and regulations in the developed and so-called "first-world" countries.   Next week I'll discuss the same for developing countries.
For examples of first-world problems, we need not look any farther than the US, which as noted in this article is by far the most litigious country in the world: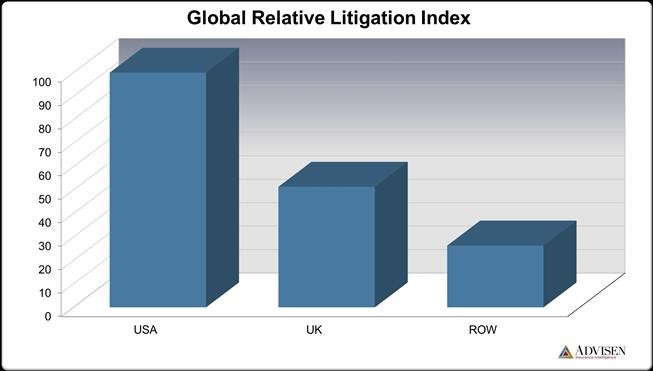 So, it is not a surprise that the US has its fair share of confusing, finicky and many would argue ineffective laws and regulations.
There are many good examples of "first-world problem" regulations in the US, for instance, EPA's National Pollutant Discharge Elimination System (NPDES).  Like most regulations, the intent was well founded – to reduce discharges of pollutants into waterways.   It would take several blog posts to even begin to describe the various nuances of the NPDES, and the permits themselves can be literally hundreds of pages long!  So rather than discuss the details, let's have a look at a recent court case where the NPDES was involved.
According to the National Law Review, an environmental group brought a suit alleging that the defendant, a utility companies, treated their utility poles with a wood preservative containing a biocide and other chemicals and that the utility poles discharge the wood preservative into the environment in violation of the Clean Water Act as they did not have an NPDES.  The plaintiff also argued that the preservative escaping from the poles should be defined as "solid waste" because it was still serving its intended purpose and that it had not been thrown away or discarded by the utilities and thus should be regulated under another of EPAs programs,  Resource Conservation and Recovery Act (RCRA). 
Does anyone really believe that utility poles should be considered point-sources and subject to NDPES permitting requirements and/or that their leaching products should be defined as solid wastes and treated as such?  If so, then what about discharges and leaching from household decks, picnic tables, benches, fences, mailboxes, etc.  These are often treated with many of the same preservatives as utility poles.  Should they also be required to obtain NPDES and be regulated under RCRA?  How much money do you think was spent on legal fees, consultants, judicial costs in preparing and trying this case?  Come on guys!  We are arguing about power poles when there are issues like greenhouse gas emissions that we are burying our heads in the sand to avoid facing.
While this utility pole case was eventually dismissed, what it most interesting to me is what this says about these laws.  They are obviously overly complex and lead to situations like the one noted above that are, in my humble opinion, simply ridiculous.  The main beneficiaries for the overly complicated regulations such as NPDES and RCRA is the cottage industry of consultants, lawyers and bureaucrats make a living discussing the fine points of the regulations and how they apply to specific operating facility (sort of reminds me of the Superfund consultants and lawyers glory days of the 1980s and 90s!).
I know my colleagues in the US, Canada, UK and elsewhere have many, many other examples. 
Keep tuned, as next week I'll discuss some of the stranger HSE laws and regulations that can be found in developing countries.
Thanks for reading.  Keep safe.  Be healthy.  Respect your environment.
---
I hope that you will bookmark the blog, share it with your colleagues and visit the blog frequently because you find it informative and helpful.  I value your feedback and suggestions for future topics.
Please enter your email in the box at the top of the post and subscribe to our blog HSE Asia - our weekly blog will be emailed directly to you.
Next Week's Blog Topic: Wacky HSE Regulations from Around the World – Part 2: Growing Pains

Photo Credits: Puppets image courtesy of Jean Scheijen at www.freeimages.com.
Latest posts by Randall D. Shaw, Ph.D.
(see all)